Opera A to Z: A Beginners Guide to Opera is an overview of the most famous operas and opera characters of all time; one for each letter of the alphabet. The book was written with children ages eight to twelve in mind, but it is sure to delight young and old alike with its engaging summaries of twenty-six renowned operas. The book is based on a 27 x 40 watercolor that took author and illustrator Liddy Lindsay two years to complete and has become a bestseller as notecards and Giclée prints at The Met Opera Shop in New York.
Opera A-Z is available for sale at Pinwheel Books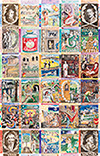 The original artwork, which the book Opera A-Z is based upon, is also available as both a fine art print and notecard set. Visit the shop page for these products and others available for sale.